Cancer Gene Sequencing: Thinking it Through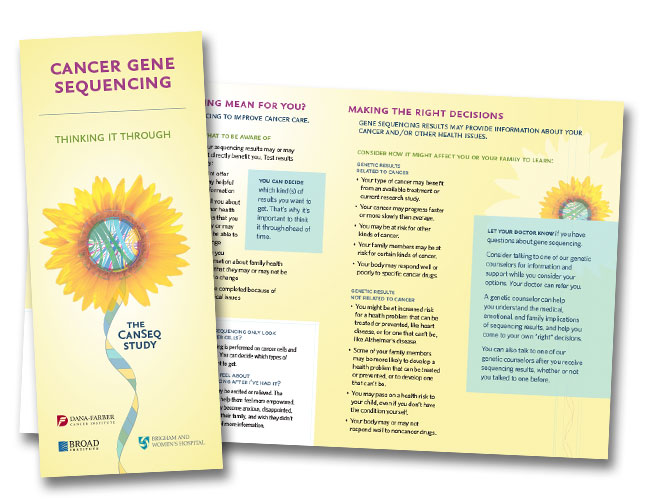 PI: Stacy Gray, MD, Dana-Farber Cancer Institute
DFCI researchers studying the use of sequencing to guide cancer care needed an easy-to-understand resource for patients that explained sequencing and supported their decision-making process.
HCC developed clear, simple content communicating that cancer gene sequencing may or may not positively affect cancer treatment, and that it also may provide unexpected information that has implications for a patient or his/her family. The key messages of the brochure were to "Make the decision that is right for you" and to talk it over with a doctor or genetic counselor.
The design utilized a "gate fold" format, which allowed us to calibrate the pace and rhythm of the information—from larger concepts to important details—in a way that wouldn't overwhelm the reader. A gentle color palette of yellows and greens framed the main image, a sunflower, which was designed to accomplish two things. It was colorful and "turned toward the sun," encouraging the reader to move into the topic with some confidence. At the same time, it incorporated scientific references: the stem was built with double-helix curves, and the center of the sunflower was a circus plot (a type of data graphing used by genetic and cancer researchers).