Inflammatory Breast Cancer Program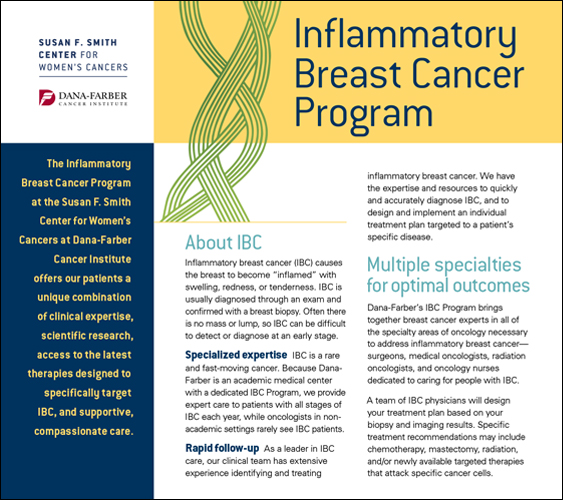 Beth Overmoyer, MD, Dana-Farber Cancer Institute
The Inflammatory Breast Cancer Program at Dana-Farber needed to provide newly diagnosed IBC patients with information and support to access expert care through DFCI's IBC program. Working with IBC Program leadership, HCC developed a program card for patients who have come to DFCI for a diagnosis, second opinion, or to initiate treatment.
The IBC Program needed the card to affirm the key information communicated in clinical meetings about the benefits of receiving care at DCFI and the resources available to address the most pressing barriers (housing, parking). Thus, most of the card's content and its primary intent are to encourage treatment at DFCI.
Patients receiving the IBC program card are encouraged to:
Benefit from the expert, specialized care available at DFCI
Access resources that can help you to receive care here
Participate in the IBC registry and contribute a research biopsy
Learn about clinical trials for which you may be eligible
The card also introduces the opportunity to participate in DFCI's tissue registry and donate new tissue. 
HCC developed a typographic treatment of the program's name that was unique and engaging to convey the program's "powerful" personality, and a graphic element of a braid was integrated to add an organic touch.