Smoke-Free Housing campaign: A Landlord's Guide to Smoke-Free Housing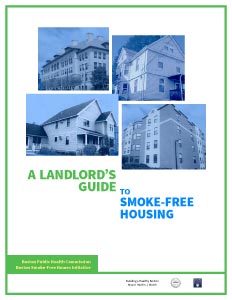 Boston Public Health Commission: REACH (Racial and Ethnic Approaches to Community Health) Coalition
The Health Communication Core (HCC) worked with the Boston Public Health Comission (BPHC) to develop a communication campaign encouraging landlords--especially landlords of subsidized and affordable housing--to adopt smoke-free policies for their properties. The campaign included a public-facing mass media component, as well as direct landlord communication and targeted resources.
HCC developed the strategy in response to input from two focus groups conducted by Health Resources in Action (HRiA), one with a group of landlords who have transitioned to smoke-free housing (SFH) and another who have not transitioned. The landlord's guide and campaign's graphics and taglines were positive and respectful of everyone; key messages included:
Everyone benefits from smoke-free environments.
Everyone has the right to clean air in his/her home.
Smoke-free housing is popular among tenants and landlords alike.
We all can and should help protect the vulnerable members of our community.
A SFH policy is no-smoking, not "no smokers"; smokers have the right to smoke, but not to pollute others' air.
And, landlord-specific key messages:
SFH will make your life, as a landlord, better (save you money and time during unit turnover process, increase renter demand, increase "lifespan" of units, etc.).
We have resources that can simplify and support your transition to SFH.
Key elements of the landlord guide include:
Content that is useful, easy to understand, concise, clearly organized, and emphasizes key messages
The voices of other landlords (adapted from focus group transcripts) providing support and suggestions from a peer perspective
Attractive, engaging design that is consistent with the public campaign
Typography, color, and layouts that maximize the user-friendliness and readability of the guide