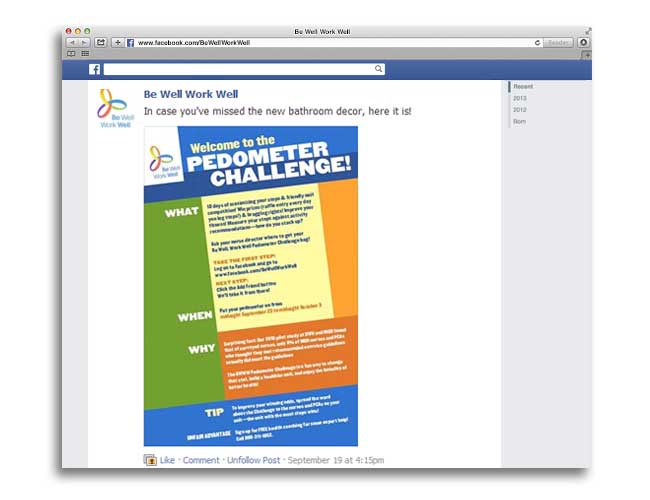 PI: Glorian Sorensen, PhD, Dana-Farber Cancer Institute
Nurses are health experts. Their barrier to health-promoting behaviors is not lack of information, but a professional culture in which caring for others is prioritized over taking care of oneself. Lack of time, stress, exhaustion from being on their feet, and shift work present additional barriers. Dr. Glorian Sorensen's Be Well, Work Well research intervention was implemented over a year in four units at one of Boston's leading hospitals to support nurses in adopting healthy behaviors. Topics ranging from healthy eating, workplace ergonomics, physical activity, to sleep were promoted each month with in-person presentations, branded incentives, and posters. A private Facebook group was created for each participating nursing unit to boost engagement and extend message reach.
One month's intervention to promote walking was run almost exclusively through Facebook: Nurses received pedometers and tracked their daily step totals on their unit's Facebook group page in a 10-day challenge. Nurses, managers, and HCC cheered them on and celebrated their commitment to their own and their colleagues' wellbeing.