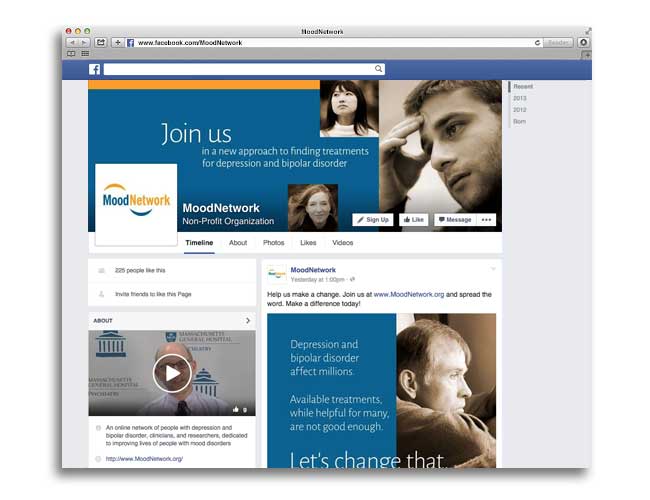 PI: Andrew Nierenberg, MD, Massachusetts General Hospital
MoodNetwork (PI: Andrew Nierenberg, MD) is a community of patients and researchers who are collaborating to identify research priorities and gather extensive health data on depression and bipolar disorder in order to develop better treatments. It is one of 18 new Patient-Powered Research Networks (PPRNs).
After the MoodNetwork website had been developed, its investigators turned to HCC to assist with the significant challenge of recruiting 50,000 patients with mood disorders and their families.
Our first step was to create a comprehensive outreach plan that leveraged access to potential participants in MGH's clinical settings, as well as the powerful reach of MoodNetwork's partnering organizations. We developed a multi-media set of recruitment tools that included print cards and posters, online and print ads, and sample Facebook and Twitter posts with eye-catching graphics for partners' social media pages.
HCC also developed the MoodNetwork Facebook page to increase awareness among potential participants, keep participants engaged with a steady flow of study updates and news, and encourage people to spread the word through their own social networks.
In the first month after official launch, 42% of traffic was referred to the site from Facebook. A YouTube channel was created to house videos of investigators and patient stakeholders, and a video of MoodNetwork's principal investigator was viewed nearly 1,300 times when it was shared on the Facebook page.