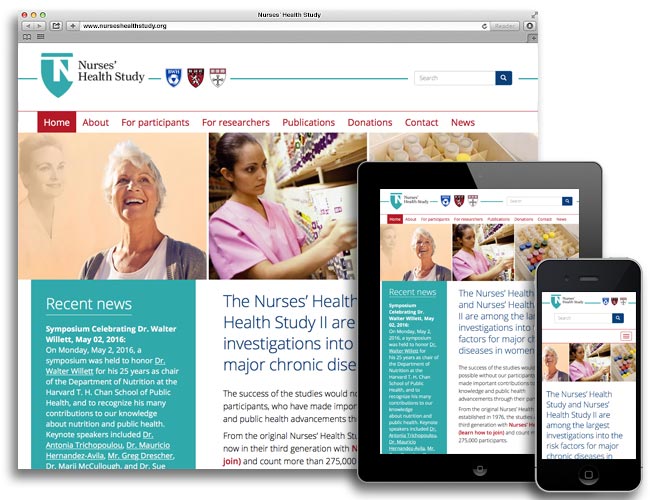 Meir Stampfer, MD, DrPH, Harvard Medical School and Harvard T.H. Chan School of Public Health
In celebration of the Nurses' Health Study's (NHS) 40th anniversary and publication of a special NHS-focused issue of the American Journal of Public Health, HCC developed a newly branded website for NHS and Nurses' Health Study II.
The Nurses' Health Studies are among the largest investigations into the risk factors for major chronic diseases in women. Starting with the original Nurses' Health Study in 1976, the studies are now in their third generation with Nurses' Health Study 3 (which is still enrolling male and female nurses) and count more than 275,000 participants. Nurses were selected as the study population because of their knowledge about health and their ability to provide complete and accurate information regarding various diseases.
HCC worked with NHS leadership to develop a communication strategy that identified the website's goals and audiences, key messages, and audience-appropriate approaches to its content and graphic design.
The study's site design was developed to convey two key messages: The dedication and commitment of the participating nurses to improving public health, and the link between the studies' rich past and its ongoing cutting-edge scientific research on chronic disease.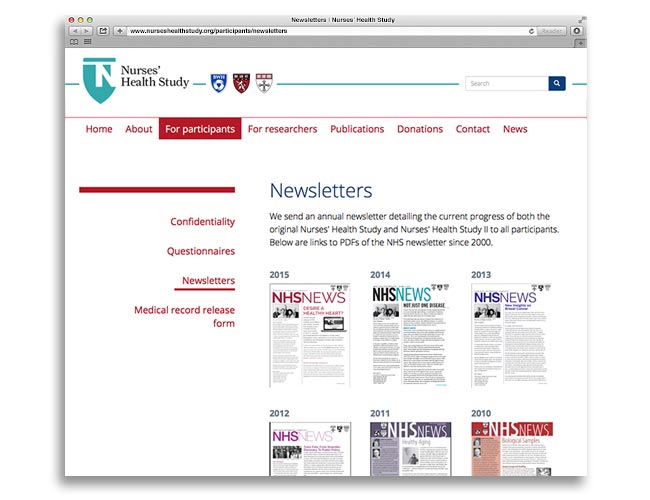 HCC edited site content for maximum online readability and organized it to enhance site usability. The site was developed in Drupal, HCC's platform of choice, which is open source and free. Drupal's user-friendly content management system makes it easy for clients to keep their sites up-to-date after they are launched. (Download our Drupal guide.)
Lastly, HCC coordinated redirection of the study's original, long-standing URL to the new site, added keywords for search engine optimization, programmed Google Analytics (a free website traffic tracking program), and trained NHS staff in the content management system so they can easily and independently keep the site up to date.