YES Health: Your Experience, Speak up for better health care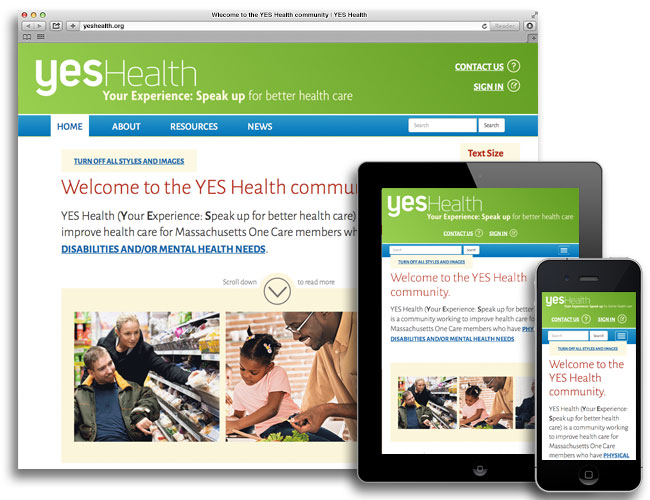 PI: Lisa Iezzoni, Massachusetts General Hospital
The goal of Dr. Lisa Iezzoni's PCORI-funded research project, "Persons with disabilities generating quality metrics to inform integrated care," is to develop quality-of-care measurements that reflect and respect the lived experience of people with disabilities, and to use these metrics to improve quality of care received by people enrolled in One Care, a Massachusetts demonstration project.
Potential study participants either have significant chronic physical disabilities or a mental health diagnosis with impaired functioning in activities of daily living (ADLs or I-ADLs), and some may have a mental health diagnosis secondary to a physical diagnosis. They are low-income and live in the community (not in nursing homes), and are diverse in age, type of disability, educational status, ethnicity, and where they live across the state.
The study needed an accessible website (yeshealth.org) that, in combination with other communication channels like phone and email, could help collect participant-generated data on quality-of-care issues and create a community of study participants advocating for change.
To meet the needs of the site's visitors, content needed to be easy to read and at a low-literacy level, accommodate a short attention span, and be concrete and action-oriented. It also needed to be helpful, providing prominent guidance on how to use the site (supportive messaging, frequent prompts, and easy access to additional support) and how to contact study staff.
Visually, it required clean design and simple organization, a clear and readable font, colors with strong contrast, and easy-to-select links. Photography was used to convey a sense of community and reflect diversity of culture and mobility, to provide cues to invisible disabilities.
Before we began building the site, HCC worked with the study team to develop a detailed description of the website's technical needs to determine the best way to meet those needs efficiently while providing the most user-friendly site possible.  A text-only comment form provides participants with an online option for reporting their experiences with One Care providers.