News
HCC partners with 4 PCORI investigators
(June 2015) The Health Communication Core (HCC) is providing patient-centered communication services for four PCORI-funded projects in which patients help guide the research process and contribute to the results of exciting new initiatives. The Patient-Centered Outcomes Research Institute (PCORI) was created in 2010 by the Affordable Care Act to provide evidence-based information for making healthcare decisions.
Here's how HCC's patient-centered communication services are contributing to four PCORI projects.
Cancer treatment symptom assessment and self-management
PI: Mary Cooley, PhD, DFCI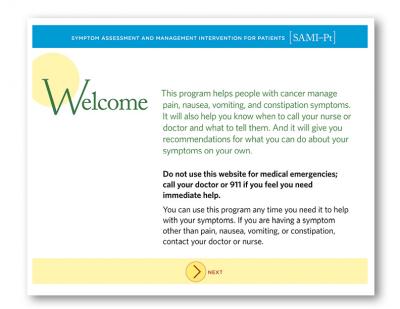 An overwhelming majority—95%—of cancer patients report valuing quality of life over survival, but only 28% say they have discussed quality of life with their clinicians. "Decision Support for Symptom and Quality of Life Management" received PCORI funding to innovatively enhance patient engagement in cancer treatment symptom management, facilitate communication among patients and clinicians, and improve patient-desired outcomes.
Working with Dr. Cooley's research team, HCC created prototypes for a symptom assessment and self-management tool on an iPad to help patients self-manage their symptoms, or, equally important, know when they should contact their doctors. Focus group reports guided our initial development of text, layout, and visuals for patients to interact with. Numerous rounds of testing with patients and feedback analysis informed ongoing revisions (and more testing) to help ensure that everything from colors to navigation were what patients wanted and needed. The prototype now provides the foundation for a larger study to assess the impact of clinical decision support on enhancing patient-provider communication and outcomes such as improved SQL management and decreased hospital and emergency room visits.
Improving informed consent for palliative chemotherapy
PI: Deborah Schrag, MD, DFCI
Chemotherapy treatment to ease the symptoms of metastatic cancer—but not to attempt to cure it—is a counter-intuitive concept for many patients. "Improving Informed Consent for Palliative Chemotherapy" is exploring the consent process as a potentially valuable opportunity to provide patients with the information they need to make well-informed medical decisions. Working with Dr. Andrea Enzinger and others on Dr. Schrag's study team, HCC created a booklet that presents easy-to-understand information about the benefits, risks, and limitations of palliative chemotherapy in an easy-to-read format. Much of the information is presented in patients' own words. Patients also participated in filming a companion video. Patients and advocates reviewed the materials and suggested improvements throughout a thoughtful, iterative process.
HCC is also developing a website where the video and booklet will be accessible online to participants in a randomized controlled trial evaluating the effectiveness of this novel library of communication tools.
MoodNetwork: Patient-powered research
PI: Andrew Nierenberg, MD, MGH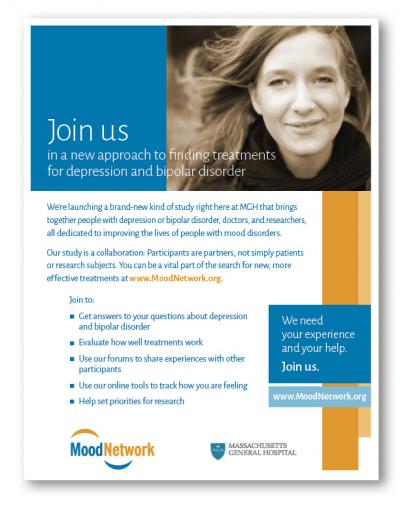 Depression and bipolar disorder affect millions of people, but many find that available treatments are either ineffective and/or have high side-effect burden. MoodNetwork is one of 18 Patient-Powered Research Networks (PPRNs) funded by PCORI. MoodNetwork's goal is to recruit 50,000 people with mood disorders to help identify research priorities and generate "big data" for treatment research.
When the MoodNetwork website (www.moodnetwork.org) launched in March 2015, the study team contracted with HCC to develop and implement an outreach plan for recruiting and retaining network members. Using social media, print, and digital channels, we're developing targeted strategies and tools to help MoodNetwork reach its goal of 50,000 participants.
YES Health (Your Experience: Speak up for better health care)
PI: Lisa Iezzoni, MD, MGH

Integrated health care—from long-term services and supports in the community to hospital and medical services—holds tremendous promise for improving the wellbeing of persons with complex medical, behavioral, and functional needs. With PCORI's support, this project is engaging low-income people ages 21-64 with significant physical and/or mental health disabilities to help define and monitor quality-of-care measures that are relevant to their lived experience and priorities.
HCC is working with the study team to develop an accessible website where people with significant physical disabilities and/or mental health needs can easily report concerns about the quality of their care. After collecting their input, the study team will deliver reports to participating teams of healthcare practitioners and monitor reported quality of care over time.
Contact us to explore how HCC's patient-centered communication services might contribute to your PCORI project or grant application.