Resources for researchers
Evidence to practice: City-wide campaign promotes smoke-free housing
The health effects of secondhand smoke are well-documented and, 10 years ago, a Surgeon General's report confirmed that building ventilation systems do not prevent smoke from moving between units.
Eliminating smoking in enclosed spaces is the only way to completely protect people from exposure, but, although smoke-free workplaces, restaurants, and bars are legally mandated, neither local, state, or federal laws address residential settings.
To encourage voluntary adoption of smoke-free policies by landlords, especially in subsidized and affordable housing, the Health Communication Core (HCC) worked with Boston Public Health Commission (BPHC) to create an awareness campaign. The goal of the campaign was to increase awareness of the benefits of smoke-free housing for landlords, their properties, and their tenants; and provide landlords with actionable, up-to-date resources to help them voluntarily implement and maintain smoke-free policies.
Exploring motivations and barriers to smoke-free housing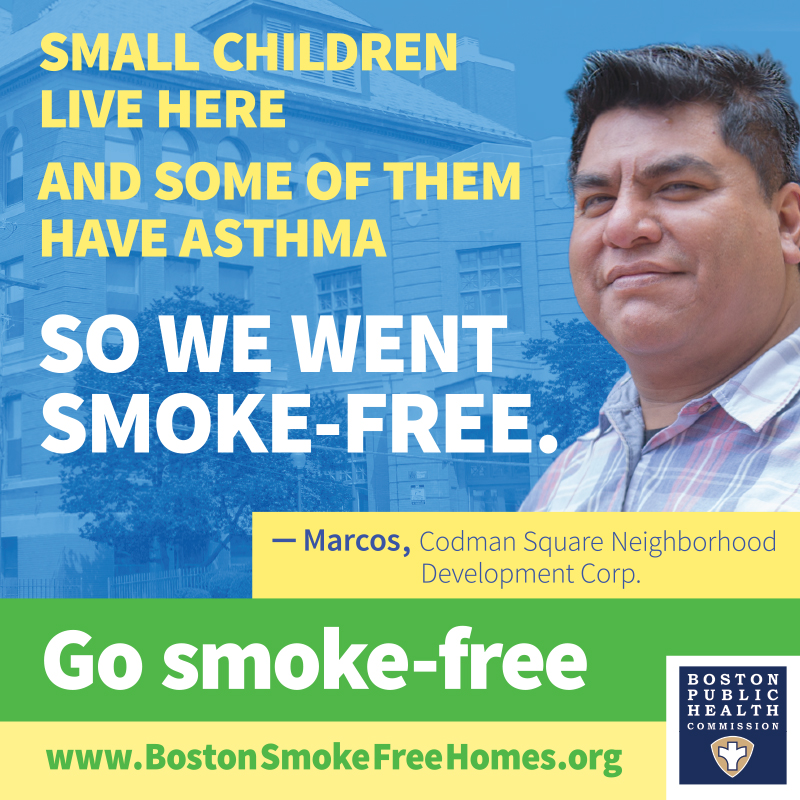 Focus groups with landlords helped identify their informational needs and preferences. The focus groups also identified common misconceptions about going smoke-free. For example, many landlords were surprised to learn that there is no legal "right to smoke" in buildings with multiple housing units, and that a no-smoking rule is not discriminatory toward smokers.
In response to landlords' interest in learning about other landlords' experiences, HCC developed a peer-delivered theme for the campaign. "We went smoke-free" features portraits of real landlords and their properties, which ranged from an owner-occupied triple-decker to professionally managed complexes with hundreds of units.
Resources designed to meet landlords' informational needs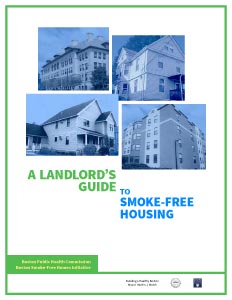 To help landlords understand and successfully complete the process of transitioning to smoke-free housing, HCC developed a 24-page Landlord Guide to Smoke-free Housing (download PDF). The Guide presents the benefits of going smoke free, a step-by-step process to implementing and maintaining smoke-free properties, and answers to common questions like whether hookahs, medical marijuana, and e-cigarettes are included in smoke-free policies. The Guide also incorporates dozens of insights and suggestions from other landlords, in their own words.
Translating research evidence to address health disparities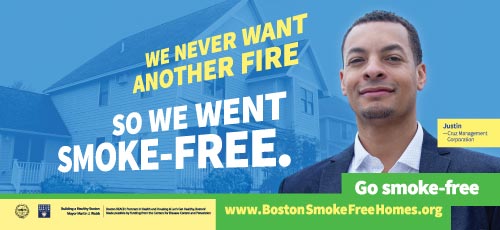 "We want every family in Boston, in all our neighborhoods, to have a safe, healthy home environment," said Mayor Martin J. Walsh when the campaign launched. "I applaud the efforts of this program to improve the health of Boston residents by making it easier to find and live in a home environment that supports long-term health."
The campaign was supported by the Centers for Disease Control, which provides funding to BPHC through its Racial and Ethnic Approaches to Health (REACH) and Partnerships in Community Health (PICH) programs.