Resources for researchers
Giving back to study participants: EMBRACE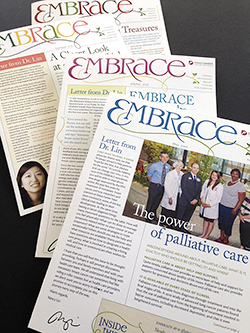 As Nancy Lin, MD, clinical director of Dana-Farber Cancer Institute's (DFCI) Breast Oncology Program, prepared to launch the Longitudinal Cohort Study of Patients with Recurrent Metastatic Breast Cancer in 2010, she reached out to the Health Communication Core (HCC) for help creating a more participant-friendly name and a study newsletter that would "give back" to the patients who enrolled.
We worked with Dr. Lin and her team to develop a communication strategy based on the unique characteristics of the study's participants—women and men with metastatic breast cancer. The strategy guided our creation of a study name and a newsletter to achieve her goal of giving back to the EMBRACE community. More than 2,000 participants have joined the study since it began. (Read the latest newsletter: Issue 11)
1. Finding the right name
Goal: Dr Lin wanted the study name to convey warmth and affirm participants' important contributions.
What we did: HCC's naming process involved the whole creative team in many rounds of individual and group brainstorming. We rejected many names, others evolved into new ideas, and ultimately some emerged as possible winners. After several rounds of internal vetting, we presented the most promising options to our client.
EMBRACE (Ending Metastatic Breast Cancer for Everyone) was Dr. Lin's immediate choice. "The word 'embrace' reflects the study's spirit and intent in many ways," she later wrote to participants. "The study embraces its participants as collaborative research partners. This study is based on human connection, and we thank you all for connecting with us. Each person involved in the study shares the same goal. By participating in this study, you are making an invaluable contribution to the future of science."
2. Building connection
Goal: Dr. Lin's research protocol included a newsletter for study participants to "give something back to participants—study news, a sense of the EMBRACE community, resources, updates on new metastatic cancer research, and information about clinical trials," she wrote in its inaugural issue. The study's consent form allows patients to indicate if they would like to receive periodic study newsletters. As people enrolled, research coordinators began receiving eager questions about when the first issue would be available.
What we did: HCC began working with Dr. Lin on the first issue, and continues to produce an issue each year. Each one begins with a planning discussion to choose a theme (for example, clinical trials or palliative care) and to outline its content. HCC then interviews the appropriate DFCI staff or other experts, writes and designs the issue, then finalizes it for IRB approval before printing it.
3. Incorporating retention messages
Goal: Effective study newsletters provide information that is interesting and relevant to the study's participants. Content should also incorporate retention messages that help study participants feel engaged, valued, and confident that they are making a difference.
What we did: Here are some examples of how the EMBRACE newsletter supports retention:
Demonstrate study progress: Each issue includes updates on progress toward the recruitment goal. Other news includes recently published research articles based on study data, conference presentations by its investigators, and media coverage (with links when possible).
Affirm the value of their contribution: Altruism is a primary driver of research participation. A letter from Dr. Lin in each issue thanks participants and lets them know how they are contributing to scientific advances.
Make it personal: Demonstrate the dedication and passion of the PI, and the warmth and friendliness of the research team. The EMBRACE newsletter profiles staff members as well as other people who are involved in participants' care, support, and research.
Create a sense of community. Each issue includes a recruitment update and infographics of data relevant to the issue's theme—for example, how many clinical trials participants have taken part in and which tumor subtypes they have. The first issue presented the results of a global study of more than 1,300 metastatic breast cancer patients in 13 countries.
Contribute to their knowledge: Many patients are eager to learn as much as they can about their disease or scientific advances that are being made. EMBRACE provides useful, understandable information that contributes to their knowledge and understanding of metastatic breast cancer.
Identify resources: Most patients are overwhelmed with information early in their treatment journey, when they may be too stressed to process it all. Different resources are helpful at different times. DFCI offers more than 20 resources for its patients, from acupuncture to financial assistance. EMBRACE highlights a few at a time so they can be noticed.
4. Make it a pleasure to receive and read
Goal: A newsletter won't be effective if recipients don't pick it up, open it, and read it. Content and design are equally important for engaging and informing readers.
What we did: Our communication strategy and the fundamental communication principles of "clear and simple" guided development of the content, layout, and graphic design.
Content: Sentences, paragraphs, and articles are short. The content is written with a warm, caring "voice" and at a low literacy level. Even readers who are well-educated will appreciate content that is easy to understand. We provide links for additional information but don't assume everyone can or wants to go online, so phone numbers are provided too. Each four-page EMBRACE newsletter typically includes 6-8 articles. Some are briefer than others, but none are lengthy.
Layout: The newsletter was designed to appeal to the EMBRACE cohort and invite them to spend time with it. A critical first goal was simplicity, order, and ease of access. The type is easy to read and there's lots of white (empty) space to avoid looking cluttered or crowded. Articles begin, continue, and conclude in predictable places. Photographs are carefully selected to support the text, then sized and placed so they gently vary the structure of the pages.
Typography and color: The overriding goal is making sure that the audience understands that the newsletter is serious and sincere, and that the content deserves their attention. A large "banner" was designed for the first page to establish a unique EMBRACE character. Each issue has a distinct color palette, but all of the colors fall within a similar spectrum.
Read the latest newsletter: Issue 11
View previous issues (downloadable PDFs):
Issue 1
Issue 2
Issue 3
Issue 4
Issue 5
Issue 6
Issue 7
Issue 8
Issue 9
Issue 10